Water Music was inspired by the 2003 art book Water Music, by Vermont writer, photographer and educator Marjorie Ryerson. Both the book and the non profit share the same mission: to help protect and restore the earth's waters through raising awareness and revenue. Ryerson donates her 100% of net royalties from the sale of Water Music to the Water Music Fund of the United Nations Foundation. The fund is used to protect and restore water in the natural environment and to provide clean drinking water, worldwide. Continue reading below…
Buy the book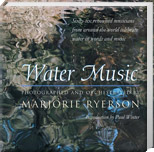 In stores
Water Music is available in all leading bookstores or from Amazon.com
From the publisher
For information about purchasing multiple copies of Water Music, please contact the book's publisher, the University of Michigan Press, by visiting the UMP web site or by calling the University of Michigan Press sales director Mike Kehoe at 734-936-0388.
From the author
Copies of Water Music can be purchased directly from the author by sending your mailing address plus a money order for $40 per book (includes shipping to all parts of the U.S.A.; shipping to other countries is an additional cost). Mail the information and payment to:
Water Music
P.O. Box 44
Randolph, VT 05060
For more info, please email water05060@gmail.com
More about the book
In the book Water Music, one hundred of Ryerson's photographs of water are accompanied by essays, poems, song lyrics, and musical compositions contributed by sixty-six world-renowned musicians, including:
Evelyn Glennie · Renée Fleming · Brad Mehldau · Midori · Bobby McFerrin · Randy Newman · Patricia Barber · Emanuel Ax · Dave Brubeck · Carol Maillard · Sarah Chang · Vladimir Ashkenazy · Bruce Cockburn · Mickey Hart · Taj Mahal · Mark O'Connor · George Winston · Kenny Loggins · Eugenia Zuckerman · Marcus Roberts · Pete Seeger · Paul Winter · and dozens of others.